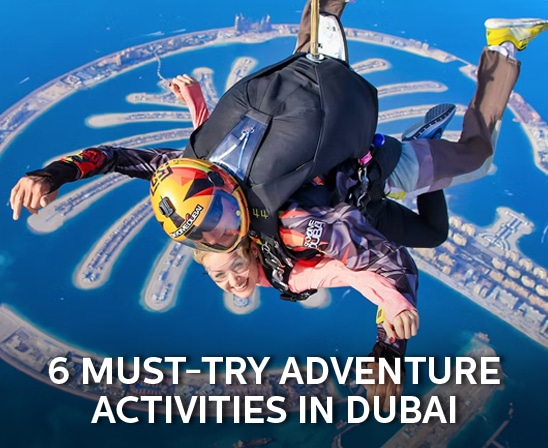 6 Must-Try Adventure Activities in Dubai for Adrenaline Junkies
Discover a plethora of exciting adventure activities in Dubai that cater to thrill-seekers from around the world. Beyond the iconic skyscrapers and luxury shopping, Dubai presents a world of adventure waiting to be explored. From the moment you pick up your rental car from Al Maraya, you're on the fast track to experiencing some of the most exhilarating top activities in Dubai, including skydiving in Dubai, ziplining adventures, paragliding escapades, deep sea diving, and thrilling water sports in Dubai. Get ready to unlock the heart-pounding adventure that Dubai has to offer.
1. Desert Safari - An Iconic Adventure Activity in Dubai
As you set out in your
Al Maraya Rental Car
, don't miss the chance to embark on an iconic adventure activity in Dubai: the desert safari. Dubai's vast, golden sand dunes are the canvas for this unforgettable experience. Hop into a 4x4 vehicle for an adrenaline-pumping dune-bashing session that will leave you breathless. Afterwards, you can enjoy activities such as sandboarding, and camel riding, and even try your hand at paragliding in Dubai, soaring above the stunning desert landscape.
2. Skydiving Over The Palm Jumeirah - A Leap of Courage
Take to the skies with a tandem skydiving adventure in Dubai over the iconic Palm Jumeirah. Your
Al Maraya Rental Car
will conveniently get you to the drop zone. As you freefall from thousands of feet above the ground, you'll witness Dubai's stunning coastline, skyscrapers, and the Palm Jumeirah from a unique perspective. This is an adventure activity in Dubai that will leave you with unforgettable memories.
3. Indoor Skiing at Ski Dubai - Chill Thrills in the Desert
While Dubai boasts year-round sunshine, you can still enjoy the thrills of winter sports. Drive your
Al Maraya Rental Car
to Ski Dubai in the Mall of the Emirates. Here, you can partake in skiing, snowboarding, and even engage in some friendly snowball fights in sub-zero temperatures. It's a top activity in Dubai that combines excitement and the novelty of snow in the desert.
4. Ziplining and Water Sports - Conquer the Waves and Skies
Dubai offers more than just desert adventures. If you're seeking an exhilarating zipline adventure in Dubai, head to one of the city's zipline parks, where you can zoom across the skyline with breathtaking views of the city. To make your adventure even more thrilling, consider combining it with water sports in Dubai, such as jet skiing or wakeboarding, for an unforgettable day of adrenaline-fueled fun. With your
Al Maraya Rental Car
, you have the flexibility to explore these diverse activities on your own schedule.
5. Flyboarding in Dubai Marina - Water Thrills at Your Fingertips
Another exhilarating water sports adventure in Dubai is flyboarding. Drive your
Al Maraya rental car
to the Dubai Marina and strap on a jet-powered board. With expert instructors guiding you, you'll soar above the Arabian Gulf, feeling like a superhero controlling your flight. It's an adventure that combines water, adrenaline, and fantastic city views.
6. Hot Air Balloon Ride Over the Desert - Serenity Meets Adventure
For a serene yet exhilarating adventure, book a hot air balloon ride over the Dubai Desert Conservation Reserve. With your
Al Maraya Rental Car
, you can easily access the launch site. As you ascend into the sky, you'll witness the desert's tranquil beauty from above. It's a serene contrast to the high-octane adventure activities in Dubai, offering a unique perspective of the vast desert below. Dubai is not just a destination for luxury and shopping; it's also a playground for adventure enthusiasts. With
Al Maraya Rental Cars
as your trusted travel companion, you can easily access these adrenaline-pumping experiences and create unforgettable memories in the heart of the UAE. So, pack your sense of adventure and get ready for the thrill of a lifetime in Dubai! Whether it's skydiving, ziplining, paragliding, or any other adventure activity, Dubai has it all, waiting for you to explore.