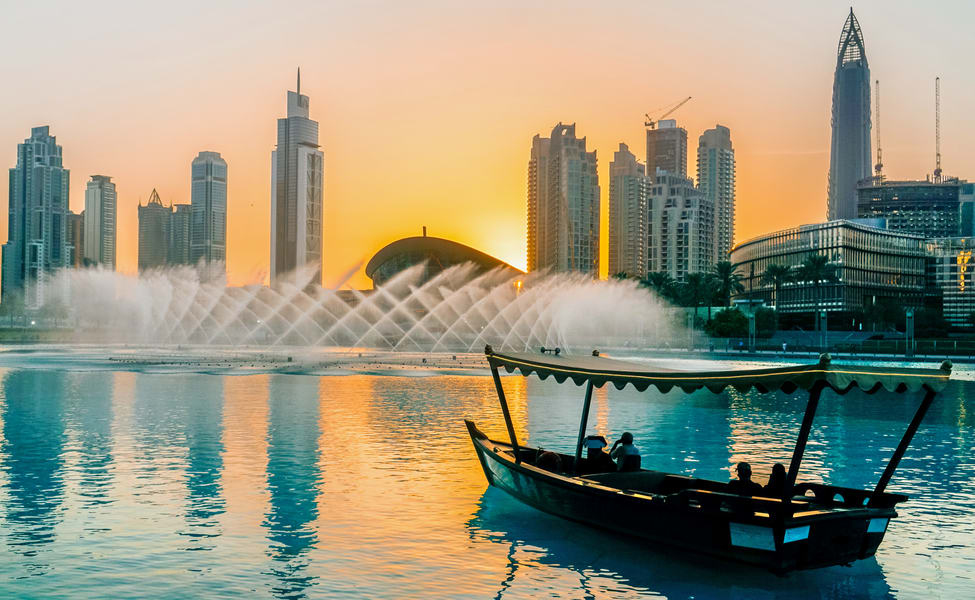 The breathtaking and mesmerising Dubai Fountain is the tallest performing fountain in the world. Witnessing the performance is bound to create a spectacular memory. As the erected streams get sway in tune with the music with the accompaniment of gorgeous lights, you would be left awestruck by the sheer scale of the lake and the columns of water.. If you are heading to Downtown Dubai, make sure you look up the showtimes of the Dubai Fountain and make your bookings. The Dubai Fountain is located in the Burj Lake, just overlooking the towering Burj Khalifa It is still wondrous as to how an urban haven can develop in the middle of the barren land in a matter of decades. One of the greatest and most frequently video-graphed attractions in Dubai is the Dubai Fountain Show.
 Facts About the Dubai Fountain
The Burj Lake that holds the Dubai Fountain is 30-acre in size. It is larger than two soccer fields.
The length of the fountain is about 900 feet.
The high-pressure water jets shoot water 500 feet in the air, as high as a 50-story building.
There are about 6,600 WET lights and 25 colored projectors that are used in the Dubai Fountain.
The Dubai Fountain can be experienced from the boardwalk as well as from a ride on the lake.
Dubai Fountain is an art made with 22000 gallons of water, 6600 lights, and 50 colored projectors. This is an art that moves, dances to the music of the choreographer. The water that is shot up comes down, creating another dimension of sound and music. The Dubai Fountain show starts with a tribute to Sheikh Muhammed, and then it slowly picks up the tempo along with the music. From initial small droplets to a blast of water jetting up on the sky to the oohs-aahs of approving visitors, who enjoy every sway of the fountain. For those, who like to enjoy this art by water, on water, and from water, you may take Abra that would cost you around AED 68.25 (At the time of writing this piece on Dubai Fountain). The Abra ride on the canal starts before the start of the Dubai Fountain, and it gives you an immersive experience. Explore Dubai with Almaraya Rent a Car For Booking Visit:
www.almarayacars.com
#moveWithAlmaraya #almarayaCars #almaraya