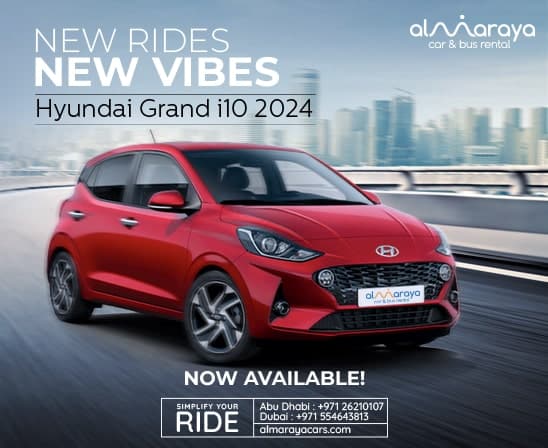 Are you planning a trip to Dubai and need a reliable, comfortable, and economical car to explore the city? Look no further than
Al Maraya Car Rentals
,
the best car rental service in Dubai
. Our wide range of options includes the Hyundai i10 2024, a car designed to meet all your transportation needs while ensuring you have a smooth and comfortable ride throughout your stay. In this blog, we'll introduce you to the Hyundai i10 2024 and explain why renting it with
Al Maraya Car Rentals
is the best choice for your Dubai adventure.
Introducing the Hyundai i10 2024: A Compact Marvel
The Hyundai i10 2024 is a compact car that's perfect for navigating the bustling streets of Dubai. With its sleek and modern design, this car stands out as an excellent choice for travelers. Whether you're exploring the iconic landmarks or going off the beaten path, this car offers you the versatility and agility you need to make your Dubai journey unforgettable. Rent the Hyundai i10 2024 in Dubai for an unbeatable combination of style and functionality.
Key Features of the Hyundai i10 2024
The 2024 Hyundai i10 boasts a range of impressive features that will enhance your Dubai experience:
● Compact Size: Maneuvering through Dubai's traffic and tight spaces is a breeze with the i10's compact dimensions.
● Fuel Efficiency: The Hyundai i10 is known for its impressive fuel efficiency, saving you money during your trip.
● Tech-Savvy: Enjoy a seamless driving experience with the i10's advanced tech features, including a modern infotainment system.
● Safety: Your safety is our priority. The Hyundai i10 2024 comes equipped with advanced safety features like multiple airbags and stability control.
● Renting a Car in Dubai: A Convenient Choice
Dubai is a city of endless opportunities and experiences. To fully explore this vibrant metropolis, you'll want the convenience of a car at your disposal. Whether you plan to visit the iconic Burj Khalifa, relax at Jumeirah Beach, or venture into the Dubai Desert Conservation Reserve, having a car allows you to make the most of your time.
Lease Hyundai i10 for Long-Term Convenience
If you're planning an extended stay in Dubai, consider leasing a Hyundai i10 2024 through
Al Maraya Car Rentals
. Leasing provides you with the flexibility of a long-term rental without the commitment of ownership. With attractive leasing options, you can enjoy the comfort and convenience of the Hyundai i10 throughout your entire Dubai stay.
Why Choose Al Maraya Car Rentals?
When it comes to finding the
best car rental in Dubai
,
Al Maraya Car Rentals
is your go-to solution. Al Maraya Car Rentals is committed to delivering a seamless, worry-free experience, so you can focus on enjoying your time in Dubai. Our Hyundai i10 2024 rentals provide an economical and stylish solution to your transportation needs, all while offering the reliability and customer service you deserve. Our customer-oriented approach sets us apart from the competition. We offer not only top-notch vehicles like the Hyundai i10 2024 but also a range of services designed to make your trip to Dubai as enjoyable as possible.