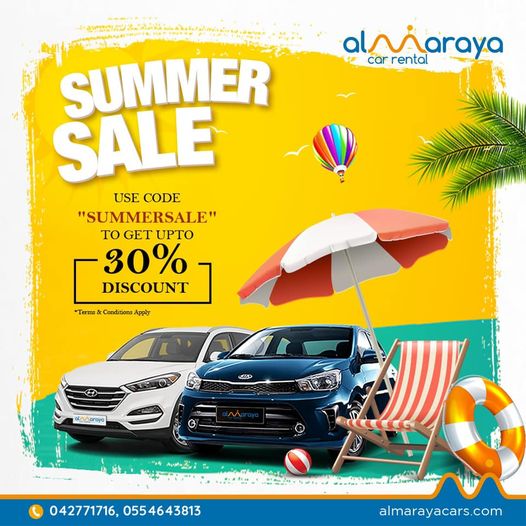 The summer sale in your most favourite Car Rental Company in Dubai, Al Maraya open up a sea of enchanting possibilities for you to explore and enjoy this summer. Just grab the 30% offer from Al Maraya which will be a matter of joy and fulfilment for as it gives you the opportunity to commute conveniently and in style. Just get your car of choice and wander freely. See places of interest and relax.
Visit
Almaryacars.com
Dubai is a versatile land of all exuberance and magnificence; events and happenings. It will tempt you to stay and absorb. you cannot expect anything less from a place that has private islands, roads that have gold SUVs running on them, ATM machines that dispense everything from cash to gold bars, Michelin-starred restaurants to spoil your tastebuds, safaris that might have sea or desert for its terrain, robot as jockeys in camel races and so much more. No wonder Dubai tourism lures everyone with a penchant for a life that blends fantasies into real life.
Dubai surpasses your mind. The versatility is appealing and absolute. The inner essence and outer appearance is filled with richness and completeness.  As one of the top places to visit in the UAE, Dubai smugly claims the spot and claims it well. The surprising part, Dubai's futuristic endeavours are so well blended with its deeply-rooted traditions that the places makes for nothing less than a heady cocktail. If the regular tourist places in Dubai, such as the Burj Khalifa, Burj Al Arab or the Sheikh Saeed Al Maktoum House have you already wooed, the super cool Dubai Expo 2020 attractions will simply up the game.